Posted on 4/15/2013 in Awards
---
WESTBOROUGH, MA – The Horizon Interactive Awards, a leading international interactive media awards competition, announced the 2012 award winners to highlight this year's "best of the best" in interactive media production.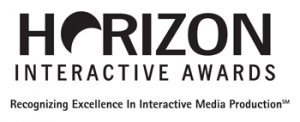 Wakefly was recognized for its excellence with a silver award for the website: b2b category for the website redesign of the Campanelli website (www.campanelli.com), a bronze award for the website: B2B category for the website redesign of the Cybersheath website (www.cybersheath.com), and a bronze award for the website: travel and tourism category for the website redesign of the Rentzie website
"We've been honored by the Horizon Interactive Awards seven years straight," said Jon Baer of Wakefly. "Our Build. Drive. Automate. approach to building websites enables our clients to count on their websites functioning as a low cost, always on sales person. Hats off to our team for doing such a great job."
The 11th annual, international competition saw over 1,000 entries from over 25 countries around world including: including: Austria, Australia, Brazil, Belgium, Canada, China, Germany, Great Britain, Hong Kong, Ireland, Italy, Japan, Martinique, Malaysia, Mexico, Netherlands, Russia, Singapore, Spain, Switzerland, Taiwan, Thailand, Turkey, Ukraine, and nearly all 50 of the United States of America. An international panel of judges, consisting of industry professionals with diverse backgrounds, as well as an end user panel evaluated categories ranging from online advertising to mobile applications. The 2012 winning entries showcase the industry's best interactive media solutions including web sites, mobile applications, print media, online advertising, video, and more.
"The 2012 competition has, once again, raised the bar for future competitions," Said, Mike Sauce- Founder of the Horizon Interactive Awards. "I can speak for the Judges by saying that we all were very impressed by the quality of the digital solutions by all of the entrants this year. There really seems to be a convergence of all forms of media providing rich user experiences with a renewed focus on sound marketing and design principles that clearly communicate a message. The addition of the social media integration is also highlighted in many of our winners and it is amazing how those elements are pushing the technology envelope. Finally, it is also very encouraging to see all of the websites that are starting to be developed on a responsive framework. That is truly a sign that developers are staying on top of our changing user environments and building sites that will be optimized for whatever the device that is viewing the content. With fierce competition from all of the categories, this year's winners should be proud to be among the best of the best from around the world!"
The Horizon Interactive Awards holds the competition each year with the winners being announced in April. For more information visit the Horizon Interactive Awards at www.horizoninteractiveawards.com.
About the Horizon Interactive Awards
In its 11th year, the Horizon Interactive Awards was created to recognize excellence in interactive media production worldwide. Since 2001, the competition has received tens of thousands of entries from countries around the world and nearly all 50 US States. Each year, those entries are narrowed down to the "best of the best" to be recognized and promoted on and international stage for their excellence. The judging process involves a Horizon Interactive Awards advisory panel, end user panel and a worldwide panel of judges consisting of industry professionals. Winning entries are dubbed the "best of the best" in the interactive media industry. For more information, visit www.horizoninteractiveawards.com.
About Wakefly
Wakefly is a web development and online marketing firm specializing in design, lead generation and conversion tools that will deliver a high return on investment. The Company offers a proven process to optimize marketing initiatives across both online and offline channels in order to drive higher numbers of visitors to a web property. Their expert team, with diverse backgrounds in marketing, technology, and creative, has the combined experience to make marketing easy. The Company is committed to delivering high-value leads and measurable ROI. Wakefly is celebrating its 10 year anniversary and is based in Westborough, Massachusetts. For more information call 508-616-2042.