Posted on 9/15/2016 in Awards
---
MARLBOROUGH, MA- Wakefly has recently been awarded with the 2016 Interactive Media "Best in Class" Award for the design and development of the website for C & K Components. The website received an overall score of 485 of 500.
The Best in Class Award is the highest honor bestowed by the Interactive Media Council. The judges determined that Wakefly excelled in all areas of the judging criteria and achieved a near perfect overall score. The site represents the very best in planning, execution and overall professionalism. In order to win this award level, the site had to successfully pass through a comprehensive judging process, achieving very high marks in each of the judging criteria – an achievement only a fraction of sites in the IMA competition earn each year. According to the IMA, the C&K Components site "represents the highest standards of professionalism, standards compliance and impeccable planning and execution. This is one of the world's most well executed websites." See more here
About Interactive Media Awards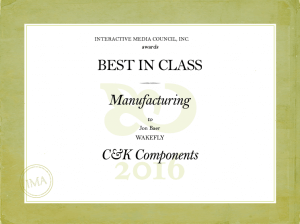 The Interactive Media Awards™ recognize the highest standards of excellence in website design and development and honor individuals and organizations for their outstanding achievement.
Created by the Interactive Media Council, Inc. (IMC), a nonprofit organization of leading web designers, developers, programmers, advertisers and other web-related professionals, the competition is designed to elevate the standards of excellence on the Internet and offer winners a boost in marketing and exposure. IMC serves as the primary sponsor and governing body of the Interactive Media Awards, establishes the judging system and provides the judges for the competition.
About Wakefly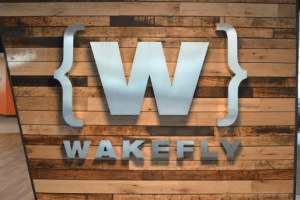 Wakefly is a web development and online marketing firm specializing in design, lead generation and conversion tools that will deliver a high return on investment. The company offers a proven process to optimize marketing initiatives across both online and offline channels in order to drive higher numbers of visitors to a web property. The expert team, with diverse backgrounds in marketing, technology and creative, has the combined experience to make marketing easy. The company is committed to delivering high-value leads and measurable ROI. Wakefly is based in Marlborough, Massachusetts. Contact us for more information!