Posted on 10/26/2015 in Awards
---
Westboro, MA – Wakefly is proud to announce that we won a Silver award at the 2015 Davey Awards for the redesign of the Morgan CODA website. There were more than 4,000 entries from the best small firms in the world in this year's competition. This is the second version of the Morgan CODA website that Wakefly has designed.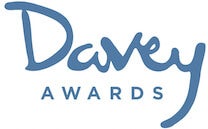 Wakefly President Jon Baer is thrilled to be recognized, stating "everyone on the web team worked really hard to design them a beautiful and functional website that met all their needs. We are very excited and honored to be recognized for all of our efforts".
The website is built in Kentico and uses custom web parts that allow customers to customize their clothing and view the finished product before they order. The site also integrates directly with their manufacturer's system for faster order fulfillment. Wakefly chose to utilize Kentico as the content management system (CMS) because it provided developers with the means to meet these Morgan CODA's business and functionality goals efficiently, as well as the opportunity to add more features as their business grows.
About Wakefly
Wakefly is a Boston based online marketing firm focused on custom crafting ROI driven online strategies that map to our clients unique business goals. Born in software development, Wakefly is a full-service web presence management firm that specializes in holistic, data-driven online marketing and boutique web development.
Our dedicated teams of established marketing and website professionals function as an extension of our client's organization and have helped hundreds of clients build successful websites and search engine marketing (SEM) strategies for over 12 years.
About the Davey Awards
The Davey Awards exclusively honor the "Davids" of creativity, the finest small agencies, firms and companies worldwide. David defeated the giant Goliath with a big idea and a little rock – the sort of thing small agencies do each year. The annual International Davey Awards honors the achievements of the "Creative Davids", who derive their strength from big ideas rather than big budgets.
The Davey Awards is the leading awards competition specifically for smaller agencies as they compete with their peers to win the recognition they deserve. Please visit www.daveyawards.com for more information. The Davey Awards is sanctioned and judged by the Academy of Interactive and Visual Arts, an invitation-only body consisting of top-tier professionals from a "Who's Who" of acclaimed media, advertising, and marketing firms. Please visit www.aiva.org for a full member list and more information.