Posted on 11/9/2015 in Awards
---
Westboro, MA – Wakefly is proud to announce that Ren Lacerda, one of our digital marketing strategists, was awarded the Searchlight Power User Award at the 2015 Conductor C3 Conference in New York City. Each year, Conductor recognizes 10 companies and/or individuals who expertly use their platform to turn their business goals or the business goals of their clients into reality. The recipients of the Searchie awards fall into a elite category, as they are innovators in their field.
This is the first Searchie awarded to Wakefly and Ren Lacerda, who has been working with the platform for over three years. He has truly earned his "power user" status, as he works closely with the Conductor development team on new features and has conducted over 100 successful implementations of the platform.
[caption id="attachment_1285" align="aligncenter" width="507"]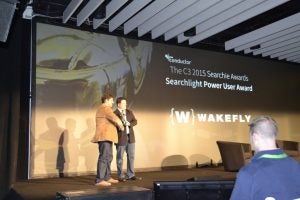 Wakefly's Ren Lacerda Receiving Searchie Award from Conductor Vice President Seth Dotterer on the C3 Mainstage[/caption]
Jason Monaghan, the Director of Internet Strategy at Wakefly stated: "It is rewarding to have a member of my team recognized for using such a powerful platform on behalf of our clients. I'm proud that Ren received this recognition knowing the hard work and impactful insights he is enabled to give to our clients by being so proficient with Conductor Searchlight."
Wakefly recently partnered with Conductor, allowing us to take our relationship with the platform to the next level. We are looking forward to seeing continued success for our clients through the use of the platform.
About Wakefly
Wakefly is a Boston based online marketing firm focused on custom crafting ROI driven online strategies that map to our clients unique business goals. Born in software development, Wakefly is full service web presence management firm that specializes in holistic, data-driven online marketing and boutique web development.
Our dedicated teams of established marketing and website professionals function as an extension of our clients organization and have helped hundreds of client build successful websites and search engine marketing (SEM) strategies for over 12 years.
About Conductor
Conductor is the global leader in web presence management, enabling marketers to create great consumer experiences through digital marketing. The Conductor Searchlight platform transforms a brand's web presence in 'unpaid' channels, like organic search, content and social, into a powerful acquisition method that increases both traffic and revenue. The technology gathers data from the web to deliver insight into where a brand's content is getting discovered, how their competition is being found and the playbook needed to win more customers online. Conductors' 500+ customers include global brands like Citibank and FedEx, emerging leaders like Birchbox and Houzz, and leading agencies like iProspect and Acronym.
Conductor is #38 on Inc. Magazine's Fasting Growing Private Companies list and named by both Fortune Magazine and Crain's Best Places to Work in America.
About C3
C3 is the only event dedicated to the art, science and strategy of reaching your customers on the organic channels they trust. Come learn how to reach customers for free (and have them love you for it) from 1250+ other marketing professionals and industry leaders.
Attendees hear fresh, authentic stories at the intersection of content, search, and unpaid media from brands who are in your shoes – no sales pitches here. You'll experience real-world programming with world-class marketers. You'll leave C3 armed with practical knowledge and a clear vision to help you attract new customers, optimize your teams' activities, and crush your marketing goals.