Posted on 1/21/2013 in Awards
---
WESTBOROUGH, MA – Wakefly, award-winning web development and online marketing firm, announced that it was named a 2012 Kentico Site of the Year Finalist for development work on the newly launched Husqvarna Viking site.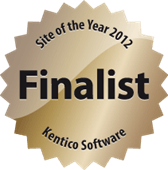 The Kentico "Site of the Year" contest is an international competition that seeks out the best Kentico CMS web site implementations. It is a way to recognize talented individual and team efforts in web site development. Partners and customers are invited to submit their nominations of websites built with Kentico CMS that have gained outstanding Web presence
"The Kentico Site of the Year Award is extremely competitive, so we're really proud and excited to be considered a finalist," said Jon Baer, President of Wakefly. "The back end programming our web developers developed for the Husqvarna Viking website was very complex, and they did a great job. The end goal for the new website is to provide a great user experience with easy to understand navigation, resulting in a positive ROI for Husqvarna Viking."
Although Kentico selects the finalists, the Kentico Site of the Year winners are ultimately determined via popular vote. Winners will be announced on February 13, 2013.
About Wakefly
Wakefly is a web development and online marketing firm specializing in design, lead generation and conversion tools that will deliver a high return on investment. The Company offers a proven process to optimize marketing initiatives across both online and offline channels in order to drive higher numbers of visitors to a web property. Their expert team, with diverse backgrounds in marketing, technology, and creative, has the combined experience to make marketing easy. The Company is committed to delivering high-value leads and measurable ROI. Wakefly is celebrating its 10 year anniversary and is based in Westborough, Massachusetts.