Posted on 2/22/2016 in General News
---
MARLBOROUGH, MA — Wakefly, a Kentico gold partner, has been nominated for Kentico Site of the Year 2015 in the Consumer Goods category.
Wakefly received a Kentico Site of the Year nomination in the consumer goods category for the build of the Second Time Around website! The Kentico Site of the Year competition recognizes excellence in the web industry and chooses the best websites created on the Kentico platform. The contest is divided into 20 categories and there will also be one overall winner, the one with the greatest total number of votes.
One of three sites nominated in this category, we were recognized for building a user-friendly website that allows STA to easily update their content and has the feature capability to grow with them as they grow. The new site utilizes Kentico's easy to update content management system which allows the client to update the site when new items are brought into the store and allows consignors to easily keep track their account activity on the website through their My2TA link.
The winner in each category will be chosen by everyone, as you need to receive the most votes in your category to win. If you are interested in voting, you can do so here. Voting is open until March 9th, 2016.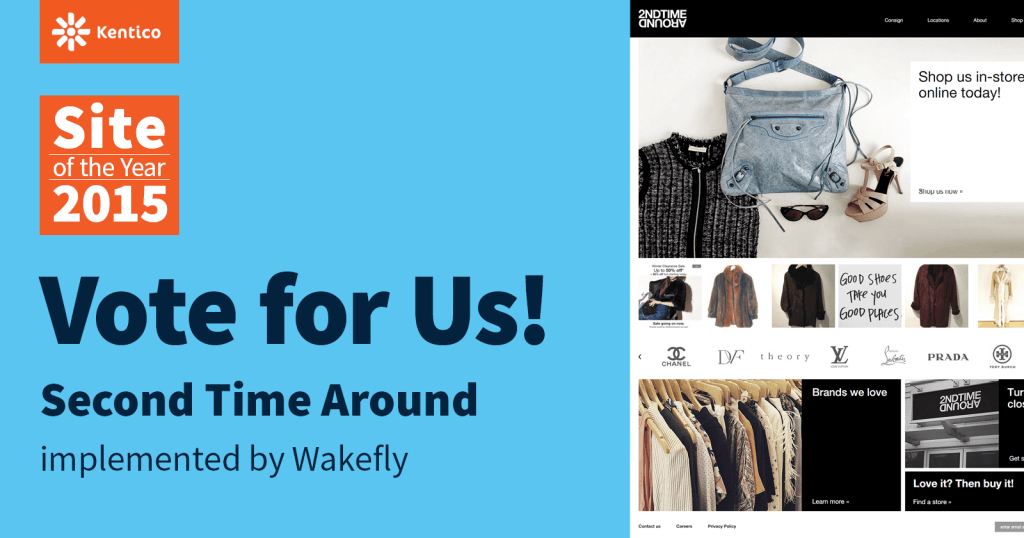 About Wakefly
Wakefly is a Boston based online marketing firm focused on custom crafting ROI driven online strategies that map to our clients unique business goals. Born in software development, Wakefly is full-service web presence management firm that specializes in holistic, data-driven online marketing and boutique web development. Our dedicated teams of established marketing and website professionals function as an extension of our clients' organization and have helped hundreds of clients build successful websites and search engine marketing (SEM) strategies for over 12 years. Wakefly has been a Kentico Gold Partner since 2008.
About the Kentico Product
Kentico is an integrated marketing solution that provides a complete set of features for building websites, intranets, online communities and e-commerce solutions on the Microsoft ASP.NET platform, on-premise or in the Cloud. It supports mobile websites, SEO, document management, online marketing tools, multilingual websites, and multisite management, and comes out of the box with 70 ready-to-use modules, 450 configurable web parts, and source code available by request. Wakefly is proud to call ourselves a Kentico Gold Partner, Kentico's highest level of partner certification.
About Kentico
Kentico Software (www.kentico.com) provides an affordable, award-winning integrated marketing solution that's easy to use but also highly customizable for powerful real-time customer-centric marketing across multiple channels, on-premise or in the Cloud. Founded in 2004, Kentico is headquartered in the Czech Republic with offices in the US, UK, and Australia. A Microsoft Gold Certified Partner with 1,000 digital agency partners, Kentico powers more than 25,000 websites in 100 countries.