Posted on 12/5/2019 in Awards
---
Here at Wakefly, we know that if you have a top-notch digital strategy already in place, maintaining a creative work atmosphere and meet your productivity goals are as good as done. We're a New England-based digital marketing agency that's dedicated to building your brand and digital presence. For almost twenty years, our team of knowledgeable of engineers has consistently created digital experiences that matter, with services like web design and development, website hosting, and conversion rate optimization, just to name a few.
In light of our contributions to the digital marketing world, we're honored to have been named a Web Development Partner on the Clutch 1000! This is a the top list vetted by Clutch, a B2B marketplace that verifies service providers. We're Number 331 on the list, one out of over 1000 web development firms, but only one out of 16 vendors from Boston.
Please take a look at one of our Clutch reviews, that proves how much our customers feel our impact: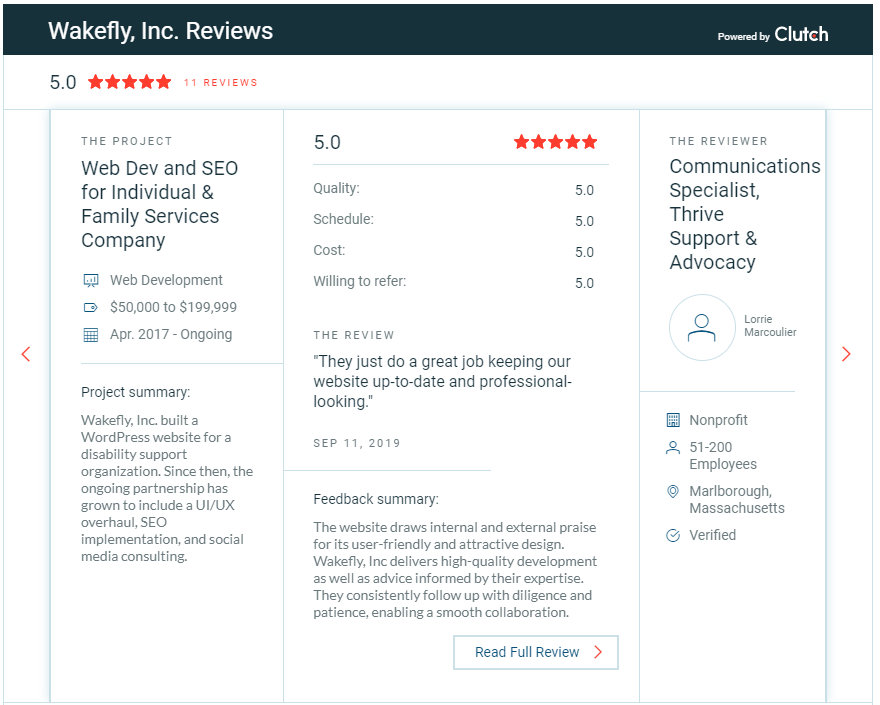 "To all our clients who submitted reviews and provided such positive feedback, Thank You!
We are humbled and honored to be included in The Clutch 1000.
We'll work even harder every day to continue to earn that honor and your continued trust."
-Dean Dorazio, Wakefly CEO & Partner
Clutch is a B2B market research firm that uses a unique ratings methodology to compare industry leaders. We were recently recognized as a top web development company on The Manifest, a platform for business data and how-to articles. Visual Objects, a portfolio platform that connects businesses with appropriate vendors through company catalogs also mentions us a top provider in the Boston area.
Thank you once again for making this award possible! Please drop us a line if you'd like to collaborate.