Posted on 3/29/2013 in General News
---
WESTBOROUGH, MA – Wakefly, an award winning web development and online marketing firm, announced that the Boston Business Journal has named it as a 2013 Pacesetter.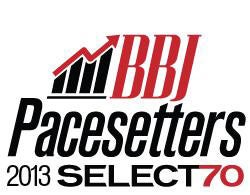 The Pacesetters list consists of the region's fastest-growing private companies. This year's list includes the 70 Massachusetts companies that recorded the highest three-year growth rate in revenue as of Dec. 31, 2012, with a starting baseline of $1 million
"Making it to the 2013 Pacesetters list is another feather in our cap, commemorating our positive growth over the last several years," said Jon Baer, President of Wakefly. "We're proud to be included in this list of impressive companies."
About Wakefly
Wakefly is a web development and online marketing firm specializing in design, lead generation and conversion tools that will deliver a high return on investment. The Company offers a proven process to optimize marketing initiatives across both online and offline channels in order to drive higher numbers of visitors to a web property. Their expert team, with diverse backgrounds in marketing, technology, and creative, has the combined experience to make marketing easy. The Company is committed to delivering high-value leads and measurable ROI. Wakefly is celebrating its 10 year anniversary and is based in Westborough, Massachusetts. For more information call 508-616-2042.