Posted on 1/11/2017 in General News
---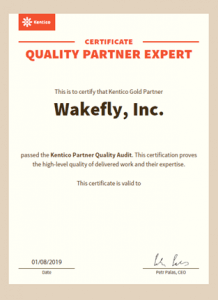 MARLBOROUGH, MA – Wakefly, Inc. has been awarded the distinction of Kentico Quality Partner Expert after a yearlong evaluation process. Wakefly joins an elite group of Kentico Quality Partner Experts, a distinction awarded to just ten partners globally (four in the US), representing the top 1% of a network of 1,100 Kentico solutions partners in 80 countries. Having been a Kentico Gold Partner since the program's inception in 2008, the Quality Partner Expert distinction announced yesterday further validates a longstanding partnership between Wakefly and Kentico.
Eligibility for the award requires the successful completion of a Kentico Partner Quality Audit, involving a yearlong process reviewing the firm's Kentico product knowledge, expertise, and overall quality of project delivery solutions. The Audit ensures the partner is utilizing core Kentico development standards and best practices for architecture, design, and custom coding.
The Audit process involves a detailed review of two completed websites, including at least one that leverages integrations with Kentico's marketing automation solution. The criteria for the review seeks to ensure the partner:
Meets best practices
Utilizes the most appropriate page types
Optimally establishes all site integrations with third party platforms
Effectively utilizes all settings to provide maximum value to the site owners
Jeannine Richard, Wakefly's Director of Operations, believes being named a Kentico Quality Partner Expert affirms the quality of service Wakefly provides to its clients. "Passing the Kentico Partner Quality Audit really reaffirmed the great skill and attention to detail that our developers put forth into every website. It also was enlightening to uncover that the best practices and recommendations that we integrate into our standard process were not common in the industry."
As a result of being awarded this certification, Wakefly is recognized as a Kentico partner who works at the very highest levels of technology and standards while implementing web content management solutions for its clients. Wakefly is very proud to have Kentico recognize the methods and detail to which they serve each of their clients in all of our projects.
About Wakefly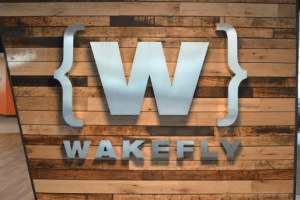 Wakefly is a Boston based online marketing firm focused on custom crafting ROI driven solutions that map to our client's unique business goals. Born in software development, Wakefly is a full service web presence management firm that specializes in holistic, data-driven online marketing and boutique web development. Our dedicated teams of established marketing and website professionals function as an extension of our client's organization and have helped hundreds of clients build successful websites and search engine marketing (SEM) strategies for over 14 years. Wakefly customizes digital marketing programs to maximize our clients' opportunities in the digital marketplace. We are proud to call ourselves a Kentico Gold Partner, Kentico's highest level of partner certification.
About Kentico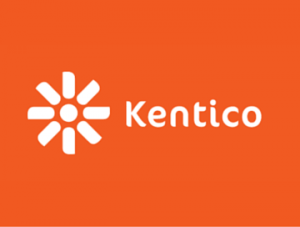 Kentico brings smart integrated digital marketing to businesses of all sizes with a comprehensive suite of solutions. With Kentico's Web Content Management, Online Marketing, E-commerce, Online Communities, and Intranet & Collaboration solutions, clients can deliver superior cross-channel customer experiences across all devices. Based on the Microsoft .NET platform, Kentico comes with 450 web parts and fully documented API and is available on-premise or in the cloud. Flexible, robust and scalable, Kentico delivers right-first-time technology, out-of-the-box speed, and affordable sophistication to help customers meet their goals faster and more profitably.
Related Links