Posted on 12/15/2015 in Digital Marketing
---
For many companies, PDF file downloads are a key performance indicator that cannot go unchecked. PDF files are the way to provide clients with important product manuals and specifications. PDF's are also used to offer white papers and other valuable content behind a wall to potential clients to capture key data via forms.
The PDF download numbers are a sign of brand strength and popularity and are an important part of inbound marketing in today's digital age. Surprisingly, many companies fail to properly track activity around these files an do not capture critical metrics for their business goals.
In this article, we are going to explore ways to capture such data and, above all, make sense of the numbers so it would help in the decision-making process.
PDF Tracking Tools
First and foremost, we should make sure we have the appropriate tools to track the PDFs.
The most important tools are freely available from Google:
Google Analytics.
Google Tag Manager.
Chances are, your webpages have already Google Analytics in the source code. Make sure your GA code is up to date, meaning, your code is the latest Universal Analytics code.
The other free tool from Google, Tag Manager, is easy to implement. Once the container code is on every page then you can create the PDF trigger and tag that would enable you to create reports. For a guide on how to implement the triggers and tags, go to the article "Tracking Clicks for PDF Downloads in 3 Easy Steps".
IMPORTANT! Something that most digital marketers oversee is to make sure EVERY page has both the GA code and the Tag Manager container in the source code. These codes should be correctly placed where Google recommends.
To verify the presence of the code, you can run reports using custom filters. Crawler software tools such as "Screaming Frog" is the most commonly used.
Finally, and to put the subject matter to rest, you cannot insert the Google Analytics code or snippet into a PDF file.
Now that you can track activity in every page of your site via GA and have the tag manager tool to create tags and triggers to generate events, it is time to look at ways to harvest the metrics you need.
Creating Reports for PDF Downloads
Method A: Google Analytics Standard Reporting
The simplest way to see PDF activity is by using Google Analytics Reporting to pull the data. Just go to "Behavior" then "Site Content" then "All Pages":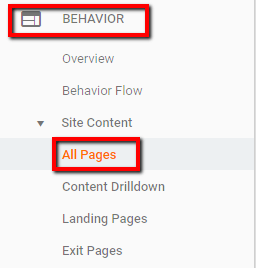 Then, on the Search field, type "PDF".
If you choose Primary Dimension "Page" and search for "PDF", the report will include all URLs in your website that has the PDF letters in it. Sometimes, this report is not completely accurate since they include any url with the word "PDF". For instance, there might be blog pages in your site that have the word "PDF" in the title, which end up as part of the url and will add pageviews to the report that are not actually PDF downloads. In this case, extra filters might be needed to obtain a clean report containing urls with only ".PDF" as the file extension.
The final report should give you valuable data such as the following:
PDF URL
Source /Medium
Unique Pageviews
Avg. Time on Page
Bounce Rate
Some analysts try to pull a PDF download report via "Page Title" filters, however, this is actually a report of traffic to pages that have "PDF" in the title, not the actual file. Still, if you can diligently add the "PDF" word only to pages that contain links to PDF downloads, the report might have some value.

The above report is quite neat, but it lacks flexibility and does not provide depth, it only scratches the surface, especially when you are in charge of enterprise-level web properties that heavily depend on PDF download metrics to define campaign or brand success.
If you want to go pro with PDF tracking, you definitely have to use other tools and get your hands dirty with code and sophisticated configurations.
Method B: URL Parameters PDF Tracking
The next method of tracking is to use URL parameters to identify campaigns and PDF topics.
Let's try an example: Example ABC company has a valuable product that is popular and you notice your clients are searching for a digital manual on how to install and operate the product. The how-to manual has been created and was recently uploaded in the company website, the URL address looks like this: http://www.exampleabc.com/products/manual-a.pdf
The above URL has been added to the products page using the following link: <a href="http://www.exampleabc.com/products/manual-a.pdf?pdf=123-how-to-manual-eu" target="_blank">Product 123 How-to Manual – Europe</a>
As you can see, we have included the identifier parameter ?pdf=123-how-to-manual-eu" to the end of the PDF URL. Parameter implementation depends on what technology your website is built such as javascript, java, php, c#, jquery, etc, and adding it to your URL is most likely a job for your development team.
Once the parameters are implemented, you can harvest great data using Google Analytics, the way we described above in method A.
For instance, in case you want to pull data about the "Product 123 Europe manual" PDF file, just search for "pdf=123-how-to-manual-eu" in the "All Pages" section of Google Analytics. The search result will pull all pageviews to that specific PDF file.
Also, if you are using Tag Manager, you can create an event category to identify link clicks to the PDF file, filtering via the event "Event Label" if you request tag manager to pull the PDF URL and the Anchor Text as Event Label. Please see below for an example of this type of report in Google Analytics:

As you can see, just typing the Anchor text used to link to the PDF file will pull the total number of events, Source/Medium, etc, for a certain time frame.
Method C: Advanced PDF File Reporting Using Google Analytics API, Google Search Console, Open Site Explorer and Other Tools
Enterprise PDF file reporting is not as simple as the two methods we used above. It requires sophisticated techniques, tools, and creative thinking to make sense of the type of data that is harvested.
Using Standard reporting or adding a simple parameter to PDF URLs is simply not enough to gather data needed for day to day Enterprise Level operations, analysis and decision making. Using Parameters also has its problems such as creating duplicate files and abnormal reports.
Ideally, PDF files should be uploaded to the website in a logical way, such as in silos, sections, or segments that allow the user to quickly pull the document or quickly know where they reside. PDF files should not be an island, isolated in a sea of files without any purpose.
Besides using relevant keywords in the pdf URL, PDF files should be linked from standard pages, like landing pages with data collection forms. Use regular link code where the anchor text is highly descriptive of its content and where important, relevant key phrases are used so both search engines and users can find them.
Organizing the PDF file inventory is a critical first step in PDF file reporting. Otherwise, reports will be hard to harvest, or they will gather the wrong data.
Once the PDF files are in the appropriate silos or folders, correctly named and optimized, and linked from pages that matter to obtain the KPIs needed to be measure performance, creative reports can be built. There are a number of tools to create client-facing neat reports. My favorites among all are the following:
1. Google Tag Manager, Google API, and Google Sites
With these tools we can create unique PDF Reports such as the following:
Organic vs. Non-Organic PDF File Downloads per month.
Monthly number of PDF Downloads and percent change based on the # of Goals achieved (increase or decrease)
Monthly PDF Goal conversion rate and percent change (increase or decrease)
Most Popular PDF file Downloads, weekly or monthly, compared to the previous time period
2. Open Site Explorer and Google Webmaster Tools
Additionally, you can use tools like Open SiteExplorer or Google Webmaster tools to find how many domains are linking to your PDF assets. Valuable data can be gathered using these tools such as:
Title and URL of the Linking page, as well as Link Anchor text.
A list of pdf files that have inbound links, number of links, and source domains.
Which domains are linking to which PDF, from which page, and the total number of links.
Spam Score and Page Authority of Linking page, thus enabling to do a Spam Analysis.
Using Open Site Explorer, you can find the "Just Discovered", newest backlinks to your PDF files.
The number of internal links your PDF file has. If an important PDF file has a few internal links that should be corrected.
The above data will give you a clear idea of how popular your pdf files are and who, which websites are linking to your PDF assets. Needless to say, the more inbound links your PDF files have, the better.
3. Dynamically Track PDF Downloads using the jQuery v1.7+ on () Method
You can use a custom-built JavaScript code to track PDF file downloads as events. This JavaScript code should be present in pages that have links to PDF files. It must be placed in its own .js file and reside inside the <head> section of pages containing PDF file links. A good jQuery v1.7+ on() method script can be found on this web page.
After installing this code, and using Google Analytics, you can pull some neat reports via the Events feature. First, you identify the "Download" Category and then pull the "Event Label" data to see all the PDF file downloads URLs in a specific period of time. The report will provide "Total Events" and "Unique Events" and you can even find out which pages contain the download PDF click that occurred.
4. Track PDF file Downloads when People visit them Directly (for PHP/Apache Environments)
The above-described methods take advantage of Google Analytics script being embed in the web page code. Thus, users have to visit a web page, via a browser, and then GA script will trigger the actions that are recorded in the standard reports. But, what if a document, such as a PDF, is not obtained via a client-side browser? Sometimes, we visit images and documents directly using non-html resources. In such cases, the GA script will not record the event.
Case Study
Conclusion
PDF file download information is highly valuable for certain companies, and getting reliable web analysis of the activity around them is tough. Above, we have shown ways to mitigate the lack of information regarding these assets. By using a number of tools freely available, an analyst can empower senior management with data that is most often hard to extract.
---
Need Help with PDF Tracking?
If you are facing some challenges with PDF reporting, or overall analytics solutions, contact us today. Our SEO experts can assist you with everything from planning to implementation.
Optimize Your Website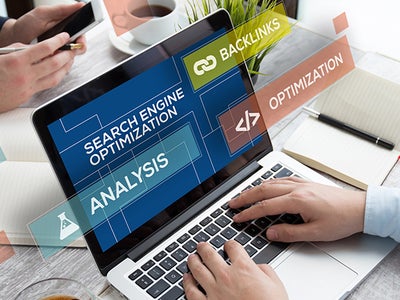 Related Blogs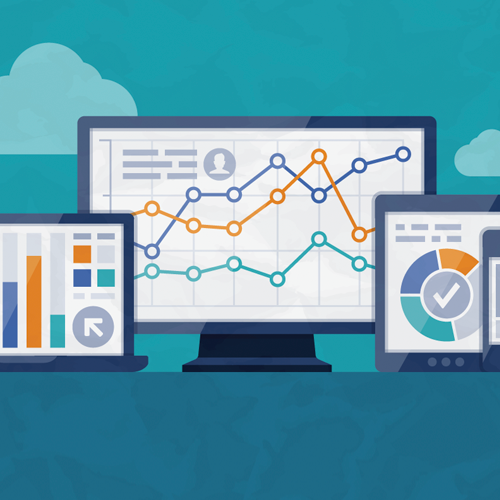 Since 2012 Universal Analytics (UA) has been the gold standard website performance tracker. Most of you that use Google Analytics are probably [...]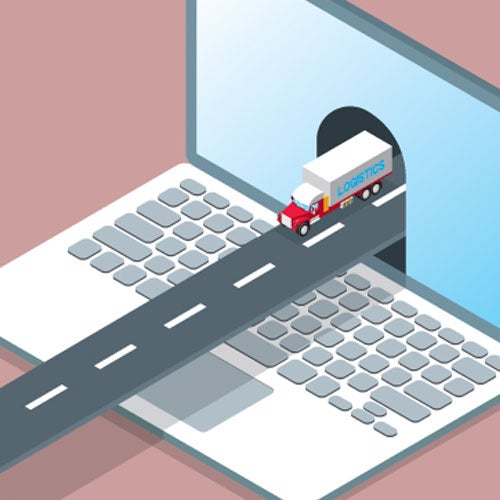 When people think of long-haul trucking, heavy shipping, or other sectors of the transportation industry, "cutting-edge online experience" may not be [...]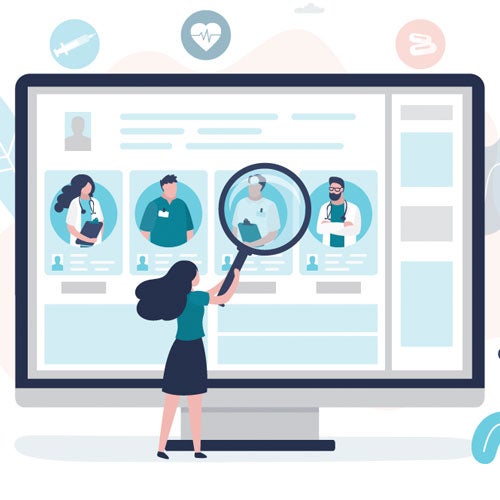 Healthcare websites face a unique balancing act of simultaneously conveying patient comfort and clinical prestige. If it's done right, a website [...]